Want lots of hands-on training but can't attend a bootcamp?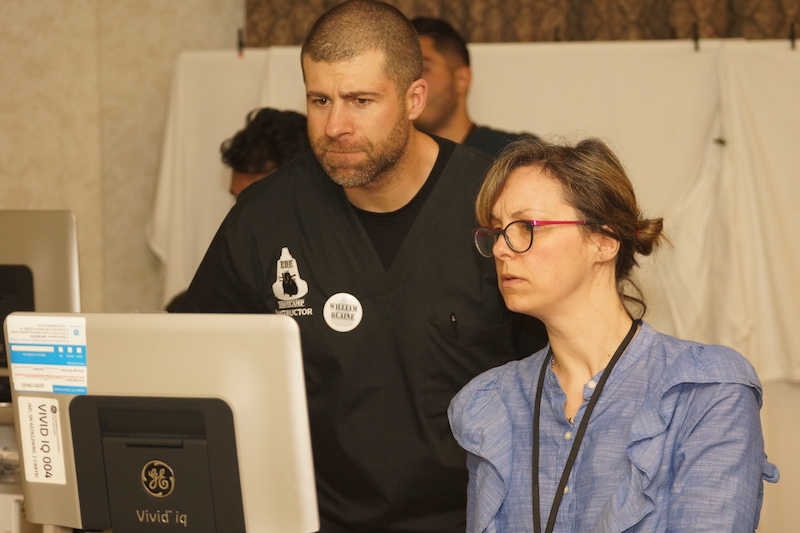 You may want to refresh your POCUS skills. You may have completed some of your needed scans for certification but just can't find an opportunity to finish the rest. You may want to learn some new scans but don't have the time for a three day bootcamp. No problem! Come for a full day of scanning live models to improve your image generation and interpretation skills.
---
Contact us to be notified about workshops in 2022.
Hands on scanning can include
Abdominal aortic aneurysm
Pericardial effusion
Global cardiac function
Abdominal peritoneal free fluid
1st trimester pregnancy
Lung for pneumothorax, consolidation, effusion, CHF
Other applications may be available on request
---
Our workshops have the highest ratio of instructors to students to maximize scanning time with a dedicated supervisor for each hands-on station and no more than two participants per station. Logbooks can be provided documenting all completed scans.
---
For those who complete all needed scans and are looking to take their CPOCUS certification exams, there are limited spots offered at these workshops. Contact us to confirm availability and eligibility.
Written Exam: Multiple choice online. Approx 1 hour
Practical Exam: Observed structured clinical exam where the candidate demonstrates image generation, problem solving techniques, patient communication, and use of machine. Approx 1 hour
Visual Exam: Interactive exercise with an instructor reviewing images and video clips that demonstrate normal and pathological findings and how to clinically integrate data. Approx 2.5 hours
Candidates that successfully complete all required scans and examinations are eligible for CPoCUS CORE Independent Practitioner Certification.
---